The artful dodger: A Valentine's Day murder and a 15-year run | Ahmedabad News
For someone who spent 15 years evading the police, Tarun Jinaraj's second attempt didn't quite cut it. Not that he didn't try. Just as in his earlier stint, when he assumed an elaborate identity to stave off the police, this time, Tarun was a brand new 'Justin Joseph', with a dragon tattoo on his right forearm and was days away from undergoing a hair transplant.
On October 5, police tracked down 47-year-old Tarun, a former basketball coach-turned-recovery manager with a tech company who is accused of murdering his wife Sajni on Valentine's Day in 2003, to Najafgarh in Delhi.
This was the second time the Gujarat Police was taking Tarun into custody — he was first arrested in November 2018, after being on the run for 15 years, and sent to Sabarmati Central Jail, where he spent the next five years as an undertrial.
There, in between attending Christian sermons and teaching English to prison inmates, Tarun allegedly plotted his next move: he had to get away.
On August 4, Tarun walked out of jail on bail. He was to have returned to jail on August 19, but didn't.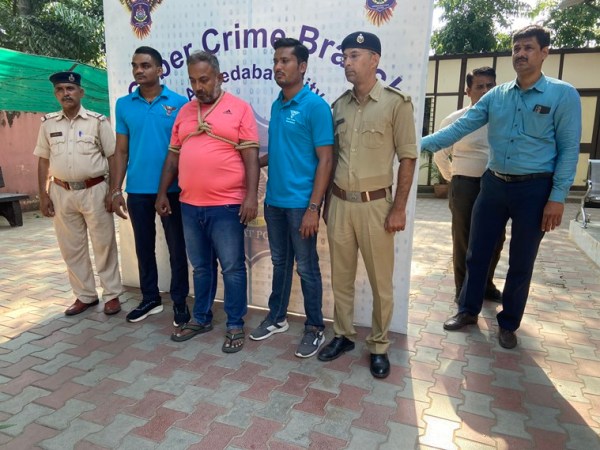 On October 5, police tracked down Tarun to Najafgarh in Delhi. (Express photo)
A Valentine's Day dinner, murder
Tarun, a basketball coach at a private school in Ahmedabad, married Sajni, who worked as an executive with ICICI Bank in the city, on November 15, 2002.
Sajni's family members say it was a match arranged by a basketball player employed by the State Bank of India, where Sajni's mother worked. Since both sets of families hailed from Kerala, not many questions were raised.
While Tarun's parents Jinaraj Karunakaran and Annamma Chacko lived in Mandsaur in Madhya Pradesh, his elder brother Arun, his wife Roopkanta and their child lived in Ahmedabad. Karunakaran had settled down in Mandsaur after retiring as a sports teacher at a local school.
Sajni's parents O K Krishnan, a retired employee with Calico Mills in Ahmedabad, and mother Ramani Krishnan too lived in Ahmedabad. After a short engagement, the couple moved into a three-bedroom flat in Bopal, a neighbourhood then on the outskirts of Ahmedabad.
On February 14, 2003, Jinaraj and Sajni, along with Arun, Roopkanta and their child, were to go out to celebrate Valentine's Day when, around 8 pm, Sajni was found dead.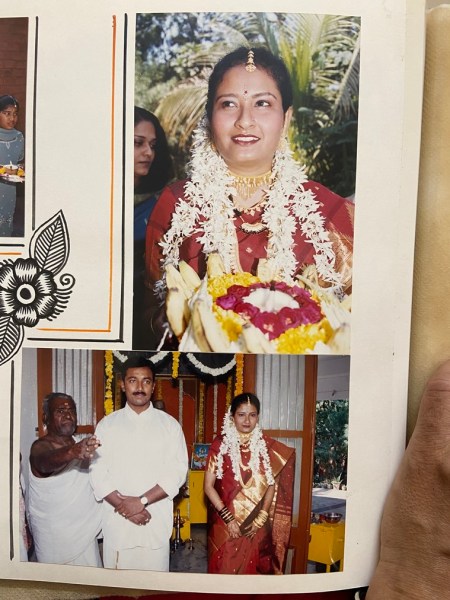 Tarun, a basketball coach at a private school in Ahmedabad, married Sajni, who worked as an executive with ICICI Bank in the city, on November 15, 2002.
Though Jinaraj was the first to inform Sajni's parents of her death and allegedly made her death seem like a case of a burglary gone wrong, police had reasons to suspect his theory – though the cupboards were allegedly ransacked, around Rs 10,000 in cash and some jewellery were left untouched; the strangulation marks on Sajni's neck looked suspect and the sniffer dogs at the crime scene refused to leave the room where Jinaraj sat looking shell shocked.
Police, who went through Jinaraj's call records, later found that he was allegedly in a relationship while being married to Sajni. His then girlfriend allegedly told police that he called her to say that "the obstacle between us has been removed", says ATS Deputy Inspector General (DIG) of Police Deepan Bhadran, former Deputy Commissioner of Police of the Ahmedabad Crime Branch whose team was to eventually track down Tarun in Bengaluru.
"Tarun tried to cover his tracks well… Before her death, the couple had sex — an attempt to make it seem that all was well with their relationship," adds Bhadran.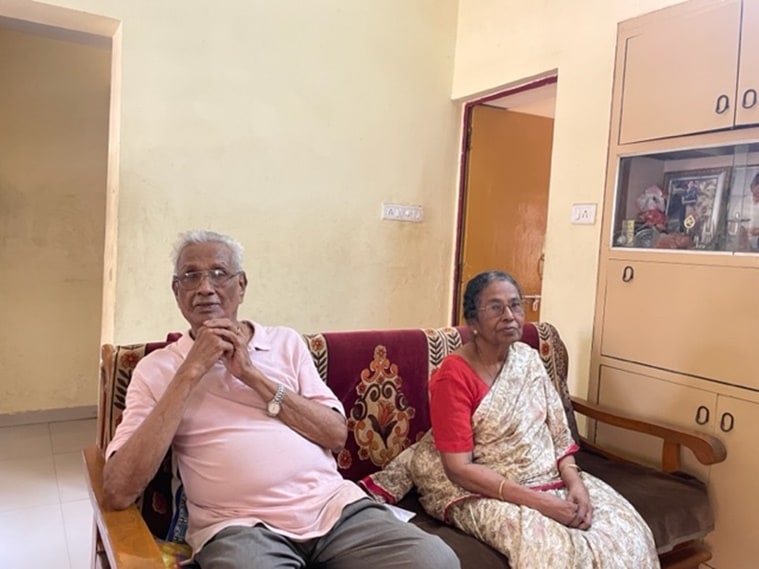 Sajni's parents Krishnan and Ramini at their Ahmedabad home.
The police's suspicion was strengthened when Tarun disappeared a day after his wife's funeral on February 15.
Police said that when they summoned him to the police station on February 15, Tarun allegedly feigned illness and checked himself into a government hospital in Ahmedabad.
"On February 16, he left the hospital and withdrew around Rs 30,000 using Sajni's ATM card. The same day, he took a train and went to Surat, from where he made a call to his then girlfriend. However, she did not entertain him and broke up with him. Tarun then took the first train to Bengaluru. where he stayed at a rest house near the station," says a police officer who was earlier part of the investigation.
A false identity
Sitting in that rest house in Bengaluru, Tarun decided to make a fresh start. To begin with, he needed a job — and a new identity.
"It had to be someone he could approach, if needed, and yet someone who wasn't familiar with the recent happenings in his life, including his marriage and wife's death. Pravin Bhateley fit the bill," says a police officer who is now part of the investigation.
Bhateley, his senior from college in Gwalior, had married Tarun's batchmate and later moved to Bhopal, where he ran a judo institute for underprivileged children. Tarun would spend the next few days poring over newspapers advertisements for jobs and get in touch with call centres, introducing himself as 'Pravin Bhateley'.
Within days, he landed a job at a call centre in New Delhi. When asked to submit his documents, he convinced his employers that he had reached New Delhi empty-handed and that he would submit his papers later on.
With his employers persisting and as he ran out of excuses, Tarun quit the job. In April 2003, he landed up in Bhopal and called Bhateley.
"Bhateley, of course, had no idea that Tarun was a murder suspect or that his wife had died," says the officer who was earlier part of the probe.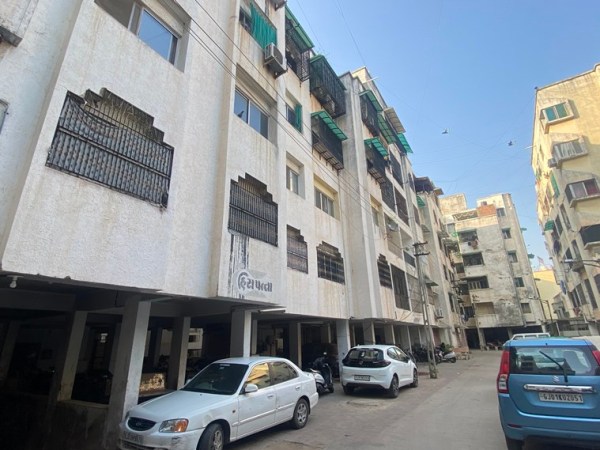 After their marriage in 2002, the couple moved into a three bedroom flat in Bopal, a neighbourhood then on the outskirts of Ahmedabad. (Photo Credit: Sohini Ghosh)
According to Bhateley's statement, which the police recorded in November 2018 and which is now part of the chargesheet, sometime in June-July 2003, Tarun told him that he had quit his job at an Ahmedabad school following a spat with the principal and that he was desperately in need of a job.
Bhateley said that in June-July 2003, Tarun joined his institute, where he taught 'Spoken English' to children. Police say during the two months that Tarun worked at the institute , he allegedly scanned all of Bhataley's documents, including mark sheets, identity cards, etc., and prepared forged ID cards and educational certificates.
Police later discovered that it was on the basis of the forged documents that Tarun was issued a passport from Pune, sometime in 2009-2010, in Bhataley's name, and that he used that to travel to the US, while he was employed with a tech company in Bengaluru.
In Bhopal's T T Nagar police station, Tarun faces an FIR lodged by Bhateley and a criminal trial before a Bhopal sessions court on charges of cheating, forgery and impersonation.
After working with Bhateley for around two months, Tarun informed him that he was quitting Bhopal and the job to "explore new opportunities".
He was now Pravin Bhatley. Tarun Jinaraj had disappeared into thin air.
A 15-year chase
Between 2003 and 2008, Tarun as 'Pravin Bhatley' worked at various IT firms and call centres in Delhi, Noida and Pune.
Police said that it was in Pune that he married his colleague Nisha Menon. She told police that when they first met in 2008, Tarun, as 'Pravin Bhateley', told her that his parents had died in a road accident and that he was raised by an "aunt named Annamma Chacko (his mother), who lives in Mandsaur, Bhopal". In 2010, the couple moved to Bengaluru.
Meanwhile, back in Ahmedabad, with no leads, Sajni's murder case was now a cold case.
"Every Valentine's Day, we would come across newspaper reports of Sajni's parents remembering her on her death anniversary and we would kick ourselves, saying we failed them," says DIG Bhadran.
In 2011, after Sajni's parents made several representations to the Gujarat government and followed it up with a meeting with then CM Narendra Modi, the Gujarat Police finally decided to look at the case afresh.
A team of 18 police personnel from the Crime Branch was set up to trace Tarun, with the investigation headed consecutively by then Joint Commissioner of Police A K Sharma, then Deputy Commissioner of Police Himanshu Shukla and thereafter then DCP Bhadran.
With few fresh leads, police decided they would start with Tarun's mother in Mandsaur. His father Karunakaran had passed away a couple of years ago.
As part of the investigation, two sub-inspectors approached Annamma posing as businessmen and asked if she would rent out the top floor of her two-storey house to them. "We claimed we have business in the area and have to travel to Mandsaur and neighbouring areas often for money recovery," says one of the investigating officers, adding that Annamma proved to be a tough nut to crack.
"We tried to chat her up, but she never revealed anything. At one point, a neighbour of hers told us that she has two sons, one in Ahmedabad and the other somewhere in the south. This was an important clue – it meant she was possibly in contact with Tarun. She had family photos at her Mandsaur home of her two sons but told us that her second son (Tarun) was no more," said the officer.
Police soon began tracking Annamma's landline and her social media accounts. From her Facebook profile, police identified two people on her 'friends list' from the southern part of the country – one, a Kerala-based Catholic spiritual organisation and the other, Nisha Menon from Bengaluru. A surveillance of Nisha's phone revealed that she was married to a 'Pravin Bhateley' who worked at a tech company but had no social media presence.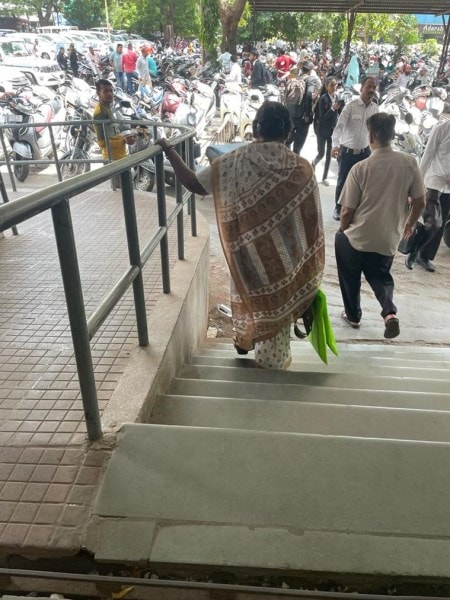 Tarun Jinaraj's mother Annamma Chacko at a court in Ahmedabad.(Express Photo)
They later found out that Annamma had started using a basic mobile phone, which was largely inactive except for some incoming calls. That was to be their first big breakthrough — the call records revealed that she had been getting late-night calls from a customer care number registered to a tech company in Bengaluru. The police's suspicion was strengthened when they listened to the conversations, but they were puzzled since the caller never referred to Annamma as 'mother'. The police also found that Annamma had travelled to Bengaluru a couple of times.
Police knew they were on to something here. In October 2018, a team of the Gujarat Police left for Bengaluru and the tech company office. No one there knew of 'Tarun Jinaraj' and Tarun's photographs from 15 years ago didn't elicit any response.
The police then asked for Pravin Bhateley. As 'Pravin' turned up, Inspector Kiran Chaudhary of the Ahmedabad Crime Branch (now police inspector at the Anand Local Crime Branch) reached out and the two shook hands. Inspector Chaudhary looked down and instinctively knew he had found his man – the ring finger of the hand in his grip stuck out, courtesy of an old basketball game injury.
But the police had to be doubly sure. An officer of the Central Crime Branch who was part of the team then recalls, "One of our officers who was behind him called out 'Tarun'. He immediately turned back."
Inspector Chaudhary shook hands with Tarun and said, 'Let's go."
The second arrest
Now, after Tarun's latest arrest from Najafgarh in Delhi, police officials involved in the investigation say what helped him remain underground for so long and even attempt a second escape was that he knew he had a way with most people.
"He is a smooth talker, intelligent and a charmer," says an officer in the team that tracked him down the second time. "While being on the run, Tarun did not have a phone. Yet, he managed to be on a dating site, through which he was in touch with several women. He had also dated seven women while he was on the run between 2003-2018. He could speak English, Marathi, Hindi, Gujarati, Malayalam, Haryanvi, Tamil, Telugu, Kannada and Punjabi," the officer said.
However, the officer added, Tarun's latest CV as 'Justin Joseph', which he prepared after he jumped bail, does not mention his proficiency in Gujarati. "It was a clever move… he did everything he could to cover his tracks," says an officer.
Families torn apart
On September 30, with her son on the run for the second time, Annamma, 74, dressed in a printed white saree and sat in the courtroom, waiting for the trial court judge to arrive.
The court was hearing a dowry case against Annamma, Arun and Roopkanta that Sajni's brother-in-law P K Shashidharan had filed soon after the murder.
That the murder and the events since then had taken a toll on the family was evident in how Arun and Roopkanta sat away from Annamma, not a word exchanged between them.
A day earlier, Annamma had told The Indian Express that she had mortgaged her gold and used her pension money to ensure "that my son comes out of jail".
Police said that after Tarun's arrest, his wife Nisha and their sons, now aged 13 and 10, moved to Australia.
At a housing society in Ahmedabad's Vejalpur area, the Krishnans' home for over 50 years, are memories from better times – framed photographs of Sajni on her wedding day, of the mother and daughter at Ahmedabad's Ayyappa temple in the hours before the ceremony began and another one from her engagement.
"We have no hope…Can anyone understand a parent's agony over losing their child?" Krishnan says, adding how relieved they were when Tarun was arrested five years ago.
Breaking down as he recalls how, soon after her marriage, Sajni had confided in him about Tarun not being a "nice guy", Krishnan says, "She had got a promotion and was to travel to Pune the next day… Her ticket, money and broken mangalsutra were all there around her that day."
All these years later, the news of Tarun's second arrest from Delhi feels like a personal triumph, but there's one question that nags Ramani, 76. "Why did he kill her? He could have just asked her for a divorce."
(With inputs from Kiran Parashar in Bengaluru)




If you want to register your marriage in thane visit : https://courtmarriageregistration.co.in/court-marriage-registration-in-thane

Source link