DCW helpline received over 38,000 domestic violence complaints last year: Report | Delhi News
In 2022, the Delhi Commission for Women (DCW) recorded over 38,000 complaints of domestic violence and over 5,800 complaints of rape and sexual harassment, according to an annual report released Saturday. The first-of-its-kind report is based on over 6 lakh calls received through its 181 helpline number.
181 is a 24-hour, toll-free phone number operated by the DCW, which seeks to provide immediate assistance to women in distress. A network of counsellors, supervisors and consultants operate the helpline.
The helpline also received cases under POCSO with 3,647 such complaints, 4,229 cases of kidnapping, and 3,558 cases of Cyber Crime. Along with this, there were 1,552 missing complaints on its 181 Helpline.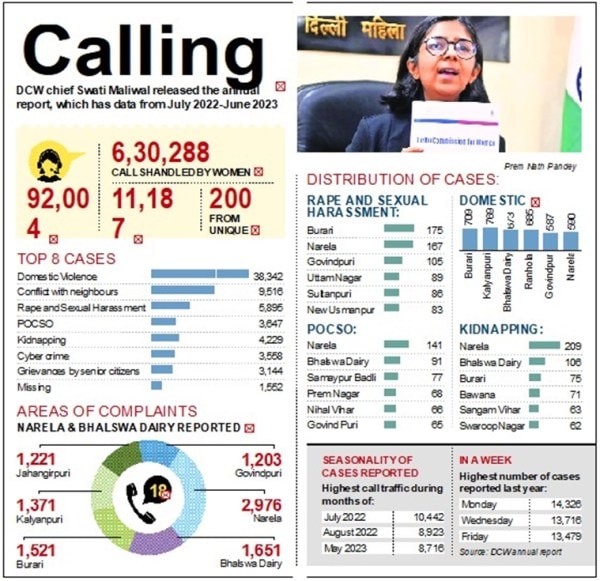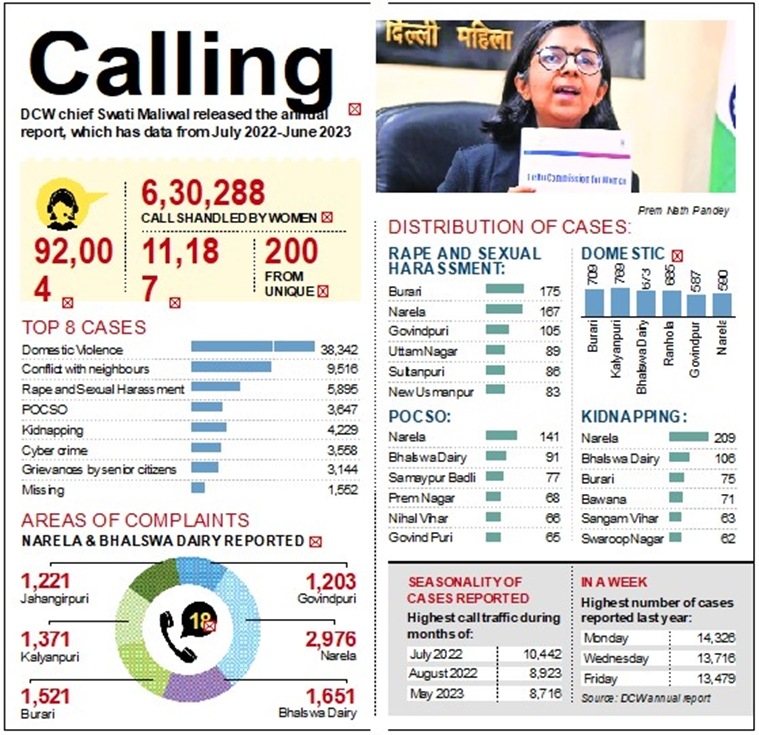 Further, there were 2,278 calls of dowry harassment, 790 of medical negligence, 156 of sex racket, 40 of trafficking, 69 of child marriage, 67 of sexual harassment at workplace, 66 of child labour, 63 of illegal liquor and drugs, and 54 of honour killing, among many more.
The report that compiled data from July 2022 to June 2023 stated that the DCW received maximum calls related to domestic violence (38,342), followed by conflict with neighbours (9,516), and rape and sexual harassment complaints (5,895).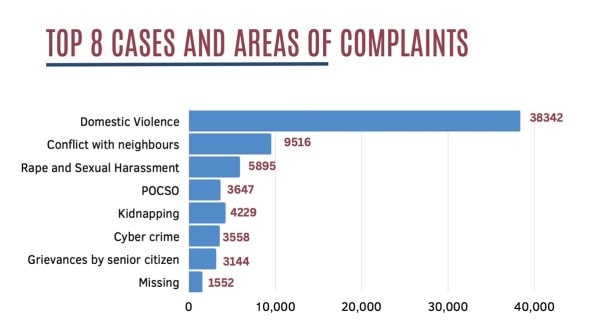 DCW chief Swati Maliwal said the commission received 6,30,288 calls, adding there were 92,004 unique cases.
The most number of unique cases registered were of domestic violence, conflict with neighbours, rape and sexual assault, POCSO, kidnapping and cyber crime.
"Almost 11,000 cases were from outside Delhi. The toll-free helpline is working effectively because it not only works as a call centre but is also backed by a team of counsellors. We have counsellors working in shifts 24X7 and are always available on call. They even meet the girl victim on the spot and help them get an FIR registered," said Maliwal during a press conference.
The helpline desk has received around 40 lakh calls in the last seven years, she added.
She said that many women have also been rescued from sex traffickers through the helpline desk.
She further added that the report will be sent to the central and state government and their cooperation will be sought in addressing rising crimes against women and girls in the capital.
Most of the complaints were from Narela (2,976 complaints) and Bhalswa Dairy (1,651) in Delhi, the report stated. A majority of the calls were made by women in the age group between 21 and 40 years.
The Commission has also received 1,319 service-related matters, 421 cases of property dispute, 354 cases of police harassment, 348 requests of shelter homes, 298 cases of dangerous attacks on women, and 235 cases of theft. There were 58 complaints from transgender persons and 137 grievances from men as well.
How the helpline works
As soon as a distress call is received, the counsellor on duty provides immediate counselling to the caller. The helpline team forwards the complaints to the Mobile Helpline programme of the commission if immediate intervention is required. A team of counsellors is then dispatched to the spot to assist the victim. If the complainant requires police assistance or an ambulance, the counsellor informs the Police Control Room and even arranges for an ambulance, if required.




If you want to register your marriage in thane visit : https://courtmarriageregistration.co.in/court-marriage-registration-in-thane

Source link